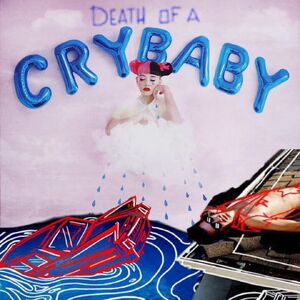 Death of a Crybaby
is a collaboration album of
Melanie Martinez
and
Panic! At The Disco
, featuring mashups of both
Melanie Martinez
and
P!ATD
songs. It is set to be released on April 1, 2017 being produced by
Atlantic Records
.
Tracklist
Edit
"*" indicates that this song was removed in future copies of this album.
"Death of a Crybaby" (single)
"This is Carousel"
"The Ballad of Pity Party"*
"Miss Potato Head"
"I Write Milk Not Cookies"
"Emperor's New Dollhouse" (single)
"Pacify Her in the Afternoon"
"Girls/Girls/Alphabet Boy"
"The Good, The Bad And The Mad Hatter"
"Crazy=Soap"
"Hallelujah, Training Wheels" (single)
"Don't Threaten Me with a Sippy Cup"
"Tag, Your Impossible Year"
Ad blocker interference detected!
Wikia is a free-to-use site that makes money from advertising. We have a modified experience for viewers using ad blockers

Wikia is not accessible if you've made further modifications. Remove the custom ad blocker rule(s) and the page will load as expected.